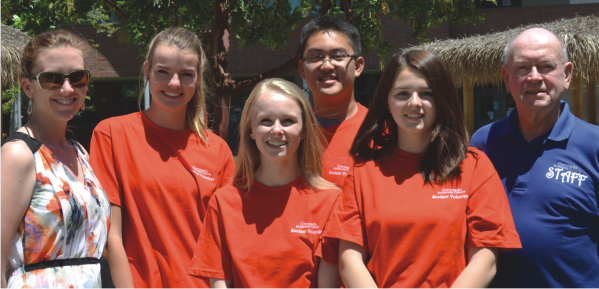 Pictured left to right: CHS National Honor Society advisor Erinn Eddingfield, Emily Dow, Taylor Washabaugh, Gabrie Galvez, Jade Verbick, CPC Volunteer Director George Morgan
A few years ago, the Coronado Promenade Concerts Board of Directors realized they needed a little extra help. Where better to look than our own incredible schools for student volunteers to assist during each concert?
With the approval of their school advisor, Erinn Eddingfield members of the Coronado National Honor Society stepped up and have officially been with us ever since. This group of extremely talented and already busy students who give hours of their time are fondly referred to as our Red Bucket Brigade.
There are 17 concerts with a minimum of 4 to 8 volunteers needed each week. Presently, 32 students have signed up to help during this summer. Sporting their new red t-shirts, the students assist in parking, handing out and delivering the programs, setting up and taking down the tents and you've seen them come through the crowd collecting donations to help keep the concerts alive. Each student is expected to work at least three hours and may be longer depending upon the concert.
Each year, the Red Bucket Brigade has been responsible for collecting a large part of what supports our ongoing "concerts in the park" series. Please help them reach their goal. They are able to take credit cards and provide a receipt via the use of The Square. Donation envelops are also available.