July 4, 2015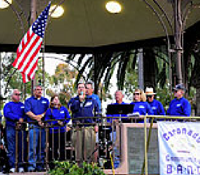 Coronado
 

Concert Band

When: 4:00 PM

What: Our traditional opening act and the pride of our town, the Coronado Community Band, under the direction of Phil Imming, brings big brass, powerful percussion, and loads of spirit to the park in musical selections ranging from patriotic to swing.

Sponsored By: Miss Match and Men's Mojo
July 5, 2015

Crown Town Music featuring Matt Heinecke
When: 6:00 PM
What:  Coronado's own Matt Heinecke brings a unique style of guitar playing, with influences ranging from folk, classic rock, jazz, country and bluegrass. His 20+ years of professional experience have taken the singer-songwriter from Coronado coffee shops to the legendary studios of Los Angeles and Nashville to the Coronado School of the Arts, where he serves as Instrumental Music Director.
Sponsored By: Linda and Rick Hascup, Diane Jolley and Bill Subang
July 12, 2015

Pop Vinyl
When: 6:00 PM
What: Pop Vinyl hits dance floors with a high-energy, make-you-sweat performance, engaging the crowd with nonstop music all night long. Without a single break between songs, the party never stops rocking, and bridges the gap between bands and DJs…  From Aretha to Beyonce, from Michael to Justin, Donna Summer to Madonna, Beegee's to Black Eyed Peas, from Run DMC to LMFAO, the list goes on and on… and on!  Their playlist spans 5 decades of up-beat, club-hoppin' hits.
Sponsored By: The Auen Foundation