May 24, 2015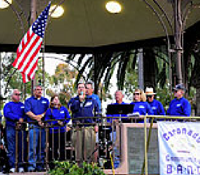 Coronado Concert Band
When: 6:00 PM
What: Our traditional opening act and the pride of our town, the Coronado Community Band, under the direction of Phil Imming, brings big brass, powerful percussion, and loads of spirit to the park in musical selections ranging from patriotic to swing.
Sponsored By: City of Coronado
May 31, 2015

TBD
When: 6:00 PM
What: 
Sponsored By: Boney's Bayside Market and Newman Foundation
Visit Official Website:
June 7, 2015

Stepping Feet – The Dave Matthews Band Experience
When: 6:00 PM
What: Stepping Feet is the premier Dave Matthews Tribute Band in the country. The band has been converting non-DMB fans to DMB fanatics for the last 13 years! 12 members strong, Stepping Feet enjoys performing the songs while adding their own wrinkles and truly appreciate the family environment that comes along with being a Dave Matthews fan and tribute act. 
Sponsored By: SoCal Premier Properties and The Town Builder