August 25, 2013

Navy Southwest Wind Ensemble
When: 6:00 PM
What:
Navy Band Southwest is one of the Navy's finest and oldest continuing musical organizations. Now with over 80 years of support to the San Diego community, the band serves as the musical ambassador for the Commander, Navy Region Southwest. The Woodwind Quintet ensemble blends the individual sounds of the flute, oboe, clarinet, bassoon and horn to create a highly eclectic sonic palette. They bring this unique sound to works from various genres including music from the Classical and Romantic eras, the contemporary music of Broadway and Hollywood, and the works of many modern composers.
Sponsored By:
Coronado Chamber of Commerce & Coronado Chamber Board of Directors
September 1, 2013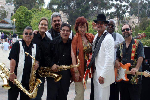 Cool Fever Band with Dave Elhoff and Sarah Jensen
When: 6:00 PM
What: Give in to the Fever and make your evening one to remember. Enjoy a cool mix of BLUES, ROCK & ROLL and R&B for an unforgettable fun-filled experience.
Sponsored By: Blumenthal Insurance and Optimist Club of Coronado
September 8, 2013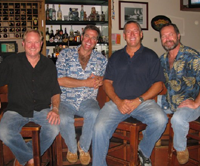 In Midlife Crisis
When: 5:00 PM
What:
The boys in the band are all keeping their "day jobs" if you will, but finding a creative outlet in the evenings to get their groove on.  From left to right they are: Phil Hammett, Dan Runyon, Jeff Earl and Steve Patrick.
Sponsored By: Coronado Schools Foundation